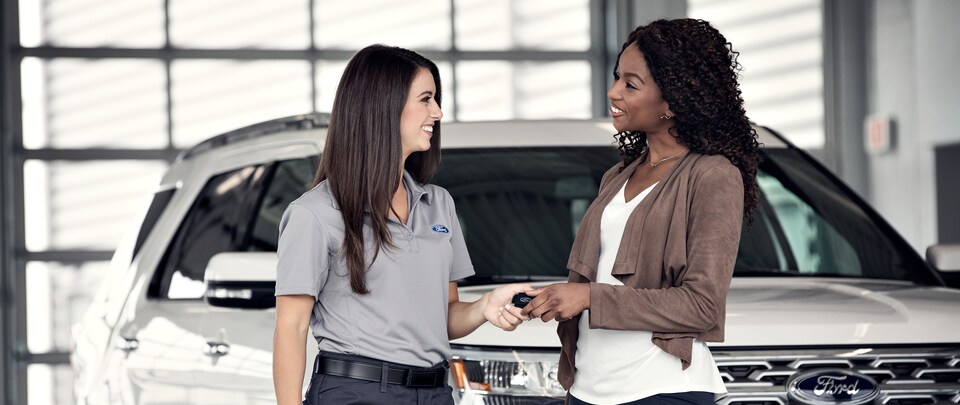 Fill out our contact form below and make Beck Ford Lincoln a part of your auto financing solutions:
Start Your Application
Finance Hours
Monday

9:00am-7:00pm

Tuesday

9:00am-7:00pm

Wednesday

9:00am-7:00pm

Thursday

9:00am-7:00pm

Friday

9:00am-7:00pm

Saturday

9:00am-4:00pm

Sunday

Closed
Apply for Financing Online
The best part? You can get started right from your home in Green Cove Springs. We offer an online finance application that only takes a few minutes. All you need to do is enter in some essential pieces of information and we can get the ball rolling on our end.
Before long we can provide you with a selection of finance options that can give you a better idea of the resources at your disposal. That information can go a long way toward informing your decision as you search for a car that fits your budget and needs.
Find the Ford Financing You Need in Gainesville and Fort McCoy
Financing is, without a doubt, one of the most important and frequently frustrating parts of buying a car. You can find a vehicle you love and have your hopes dashed by a lack of financing. Even when you get approved, the process can mean hours of sitting in a Ford dealership while you wait for the banks to give you the "yes" that you need.
A Better Way to Finance
If you'd prefer to make the auto financing process easier, there's a simple way to get it done: work with the experts at Beck Ford Lincoln. The finance team at our location in Palatka, FL has years of experience. Once we have your information, we'll open negotiations with our network of banks and help you efficiently find the loan or lease agreement you need. We have a lot of happy customers in St. Augustine and East Palatka. Our Ford dealership even specializes in auto financing for bad credit or no credit drivers. Find which Ford vehicles we can get you in with bad credit.
Loan or Lease, Its Up to You, But We Are Here to Help!
When you are shopping for a new Ford or Lincoln, or a used model for that matter, our Ford dealership is truly the premier place to get the help you need. We are able to offer every customer the hands-on help and experience they desire to get the car that they are looking for. Whether you are looking find an auto loan or a lease, our staff members are ready to help! With our help you will have no problem, driving all over the East Palatka and St. Augustine can be much more enjoyable.
Working with our staff members to get the best financing options for your big purchase, you will get to see exactly how we are able to stand apart from our competitors. We want to help you see which path is best for you and your budget and makes sure you get the car you will love at a price that fits. This means we will help to take the time the different pros and cons of each option and will show you the multiple different payments that can be available to you. We want to make sure that you are able to get the best purchase option while keeping more money in your bank account.
In either option available, shoppers who come all to our Ford dealership from all over the Green Cove Springs, Fleming Island, and Fort McCoy area will get the chance to get the new or used model that you will truly enjoy. Let our staff in the finance center help to make your entire car shopping experience easier to enjoy and make sure you can get something that you will completely enjoy!
Don't Hesitate to Get in Touch with Us Today
Do you have questions about our financing process? Drop us a line at our dealership. Our friendly finance staff would be happy to provide additional insight into any subjects you're curious about. We can also direct you to new Ford specials that provide unique values you might not find anywhere else.
Your privacy is important to us.
Our Dealership takes your privacy seriously and does not rent or sell your personal information to third parties without your consent. Read our privacy policy.